Abuja International Trade Fair open with fanfare, praises for ACCI
Stands inside the Trade Fair centre Monday
By Anthony Maliki
The 16th Abuja International Trade Fair officially got under way on Monday with dignitaries praising the Abuja Chamber of Commerce and Industry (ACCI) for providing a platform for uplifting trade and investment in Nigeria.
There was also a lot of fanfare with exhibitors showcasing what they have and prospectors looking for investors too.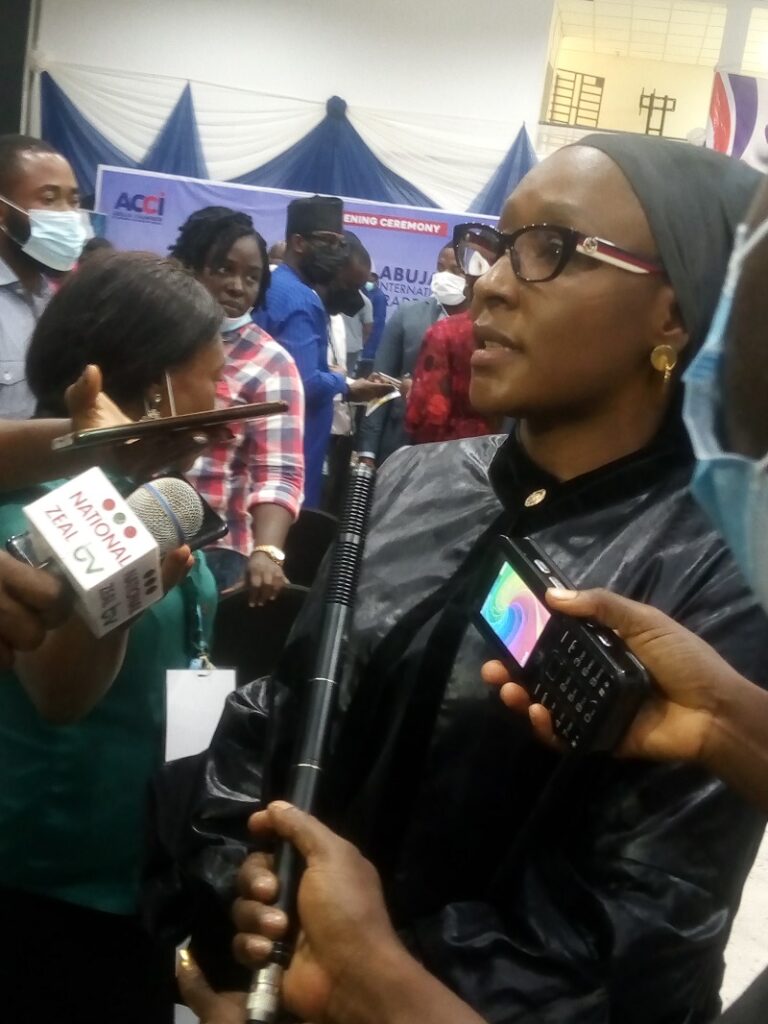 At the Trade Fair Centre and outside open stands, many businesses try to outshine one another in a friendly but intense haggling for attention from the visitors.
The kudos came from the Minister of Industry, Trade and Investment, Otunba Adeniyi Adebayo represented by Aliyu Abubakar, Director (Trade) in the ministry, Ide John Udeagbala, President, Nigerian Association of Chambers of Commerce, Industry, Mines and Agriculture (NACCIMA), and Ambassador of Cote D'Ivoire to Nigeria, Sem. Kalilou Traore.
Also are Indian High Commissioner to Nigeria, Mr. Abhay Thakur, Vice Chancellor, University of Abuja, Professor Abdul-Rasheed Na'Allah and representative of the Director-General, Small and Medium Enterprises Development Agency of Nigeria (SMEDAN), Dr. Dikko Umaru Radda among others.
Otunba Adebayo pointed out that the ministry would do all it could to assist the Abuja Chamber of Commerce and Industry to organize a worthy trade fair.
President of NACCIMA, Udeagbala noted that the organization will continue to support policies that would drive private sector initiative.
The Cote D'Ivoire envoy Traore stated that his country is interested in strengthening its economic growth with Nigeria using Abuja Chamber of Commerce and Industry as a platform.
According to him, his country and Nigeria are at a $1.5billion business profile mainly in petroleum products and hope to improve on the figures.
He also said between November 4-6, 2021, the cote D'Ivoire/Nigeria Bi-National Commission would take place in Abidjan.
The Indian envoy, Mr. Thakur said business engagement with Nigeria and his country have increased with ACCI accounting for many.
He said he is looking forward for a direct flight between India and Nigeria soon.
The President, Abuja Chamber of Commerce and Industry, Dr. Al-Mujtaba Abubakar said as a nation facing a low export and high import and facing stiff competition from over 50 countries under African Continental Free Trade Area (AfCFTA), Nigeria must take export mobilization seriously.
He said the Chamber has emerged as a strong voice of the private sector that presents policy support to government to resolve many national business challenges.
The Chairman, Abuja Chamber of Commerce and Industry Trade Centre, Dr. Johnson Anene said participants at the fair should not only look forward to the exhibition only but also networking.
The Director General, Abuja Chamber of Commerce and Industry, Victoria Akai, said the impact of the trade fair is encouraging and its organization has improved from the years.
She said most of the packaging of made in Nigeria products have improved tremendously and a roundtable on the African Continental Free Trade Area (AfCFTA) would hold on Thursday, October 7, 2021 as part of the fair to help SMEs do business better.