Cluster bombs: Biden defends decision to send Ukraine controversial weapons
US President Joe Biden has defended his "very difficult decision" to give Ukraine cluster bombs, which have a record of killing civilians.
The president said it had taken him "a while to be convinced to do it", but he had acted because "the Ukrainians are running out of ammunition".
Ukraine's leader hailed the "timely" move, while a Moscow envoy slammed Washington's "cynicism".
Cluster bombs are banned by more than 120 countries.
Mr Biden told CNN in an interview on Friday that he had spoken to allies about the decision, which comes ahead of a Nato summit in Lithuania next week.
National Security Adviser Jake Sullivan told Friday's daily White House briefing that officials "recognise the cluster munitions create a risk of civilian harm" from unexploded bombs.
"This is why we've deferred the decision for as long as we could."
Mr Sullivan said Ukraine was running out of artillery and needed "a bridge of supplies" while the US ramps up domestic production.
"We will not leave Ukraine defenceless at any point in this conflict period," he said.
The munitions have caused controversy over their failure – or dud – rate, meaning unexploded small bombs can linger on the ground for years and indiscriminately detonate later on.
Mr Sullivan told reporters the American cluster bombs being sent to Ukraine were far safer than those he said were already being used by Russia in the conflict.
He told reporters the US ones have a dud rate of less than 2.5%, while Russia's have a dud rate of between 30-40%, he said.
Mr Biden's move will bypass US law prohibiting the production, use or transfer of cluster munitions with a failure rate of more than 1%.
Early on in the war, when the White House was asked about allegations that Russia was using cluster and vacuum bombs, the then-press secretary said it would be a "war crime" if true.
Marta Hurtado, speaking for the UN human rights office, said on Friday: "The use of such munitions should stop immediately and not be used in any place."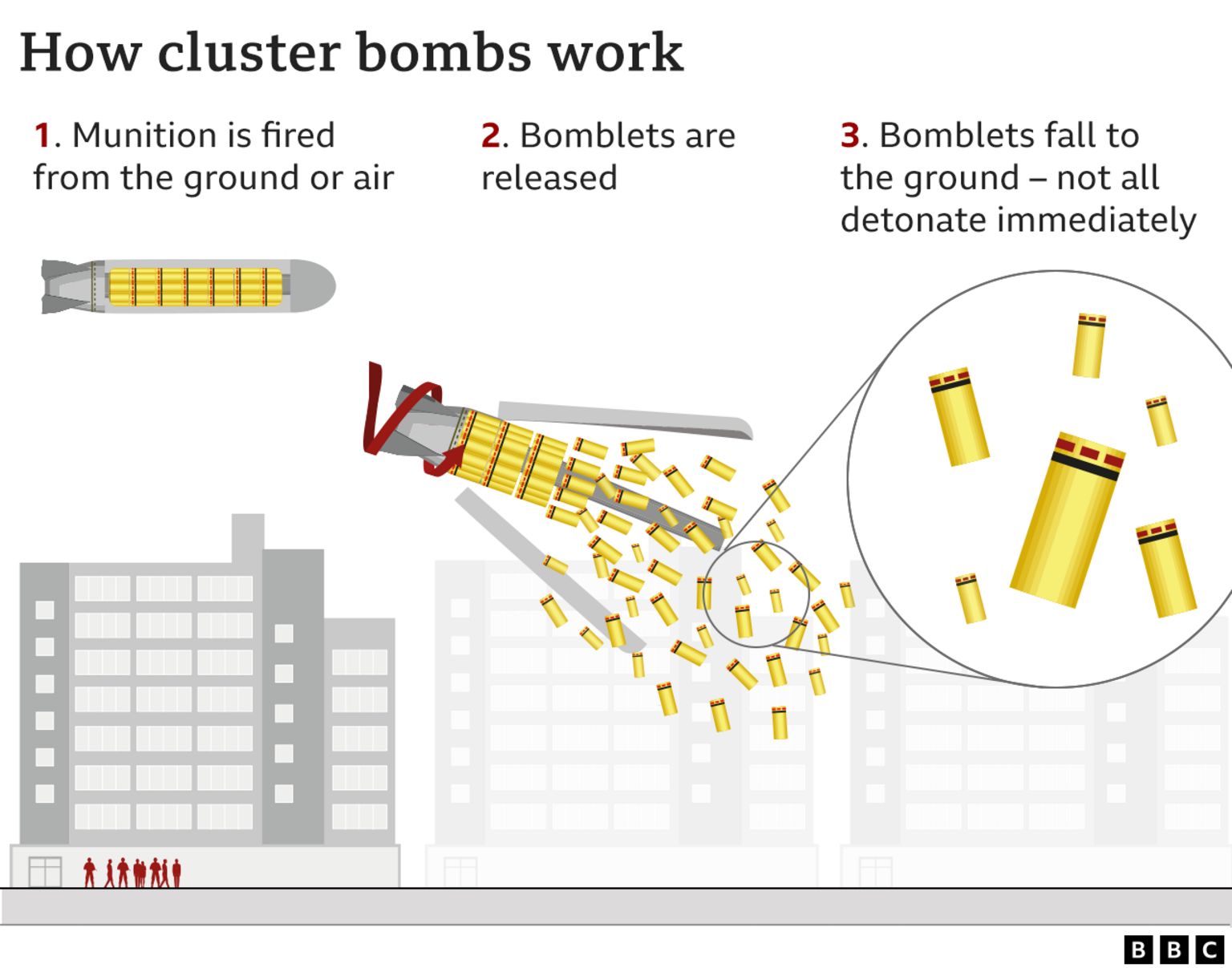 Russia's ambassador to the US criticised Mr Biden's decision.
"The cruelty and cynicism with which Washington has approached the issue of transferring lethal weapons to Kyiv is striking," Anatoly Antonov was quoted as saying by Tass news agency.
"Now, by the fault of the US, there will be a risk for many years that innocent civilians will be blown up by submunitions that have failed."
Russian President Vladimir Putin has previously accused the US and its allies of fighting an expanding proxy war in Ukraine.
But Ukrainian President Volodymyr Zelensky thanked the US president for "a timely, broad and much-needed" military aid package worth $800m (£626m).
He tweeted that it would "bring Ukraine closer to victory over the enemy, and democracy to victory over dictatorship".
Ukraine's counter-offensive, which began last month, is grinding on in the eastern Donetsk and south-eastern Zaporizhzhia regions.
Last week, Ukraine's military commander-in-chief Valery Zaluzhny said the campaign had been hampered by a lack of adequate firepower, and expressed frustration with the slow deliveries of weapons promised by the West.
Pentagon spokesman Colin Kahl said in a press briefing on Friday that the counteroffensive has been "hard sledding" because the Russians had six months to dig in.
"And because things are going a little slower than some had hoped, there are very high expenditures of artillery rates," said Mr Kahl.
"So, this is to make sure that the Ukrainians have the confidence that they have what they need, but frankly, also that the Russians know that the Ukrainians are going to stay in the game." (BBC)