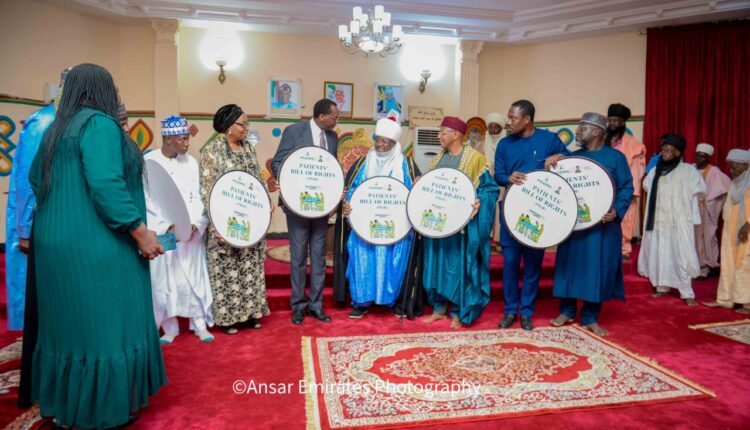 Federal Competition, Consumer Protection Agency advocates patients' Bills of Rights in Bauchi
By Abdullahi Idris, Bauchi
Part of ensuring proper advocacy towards actualization of the Wheels of Justice and patients' bill of rights have been preserved, protected and improved across Nigeria by Federal Competition and Consumer Protection Agency.
The Executive Vice Chairman of the Commission, Babatunde Irukera who led the advocacy to Abubakar Tafawa Teaching Hospital Bauchi, Bauchi Emir's Palace and Bauchi State Government, has said that the fundamental essence of the advocacy is to offer adequate enlightenment and sensitization in line with protection of patient's bills of rights, rights of patients' to dignity, cleanliness and proper medical attention as health caregivers.
The Executive Vice chairman, equally pointed out that the patients' bills of rights must be protected within the ambit of laws of the federation within the confine procedures,ethics,guidelines and regulations of the medical profession to the best globally acceptable practices and standard.
Bauchi state Governor, Bala Mohammad who was represented by the Secretary to the state government, Barrister Kashim Ibrahim,the state governor has fully welcomed these great initiatives and assures commission of their readiness to compliment with patients' bills of rights and ensure those rights are protected through the required laid -down procedures across all medical facilities in the state.
The Emir Of Bauchi, Dr Rilwanu Suleiman Adamu,appreciates the commission for coming up with patients' bills of rights saying,this will go along way in improving the health care delivery in the country.
He however,urged all caregivers to support this great policy and as well to adhere strictly to patients' bills of rights accordingly.