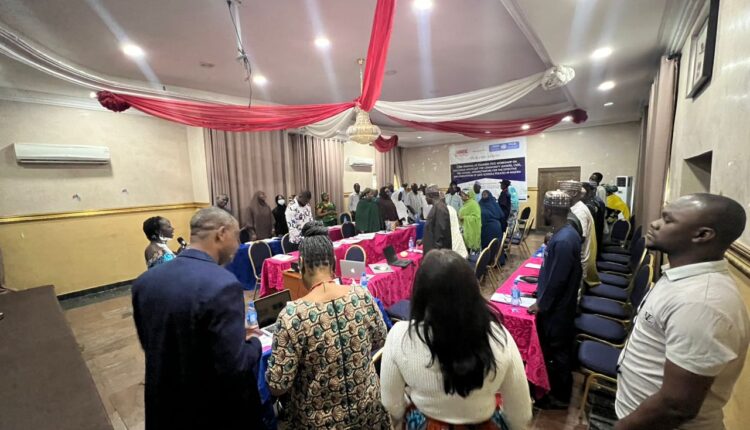 Group sensitizes security agents, community leaders on intensifying safe schools awareness in Bauchi 
Participants at the two-day training programme
By Akanji Alowolodu, Bauchi 
In order to have an effective and efficient implementation of policies of safe schools declaration in Bauchi State, stakeholders drawn from security agencies, community leaders,  civil society organizations and school administrators have been trained on intensifying awareness. 
The training held on Monday, was organized by Women Advocates Research and Documentation Center (WARDC) in partnership with United Nations Democracy Fund (UNDEF). 
The two-day programme was on Training of Trainers (ToT) on Legislative Advocacy for Safe Schools Declaration (SSD) Policies in Nigeria.
The Senior Program Officer of the CSO, Jennifer Nwokeoike said that the training was aimed at building the capacity of the participants with the requisite advocacy skills and knowledge to depeening the understanding of the safe school declaration and stepdown the knowledge to their respective communities with a view to intensify public awareness about SSD in Nigeria.
Jennifer also said that the training was designed at engaging relevant policy makers to ensure that there was legal framework for the implementation of safe schools declaration with a view to transformation of the legislative policies into laws.
She added that the participants were trained to make the public aware of the existence of the SSD and National policy so the public can also get involved in driving the demand for accountability to ensure that at Bauchi "we established costed action plan to help implementation considering the fact there was already earmarked fund at the national level."
The Senior Program Officer disclosed that Bauchi state government had already earmarked specific funds for the implementation of the SSD, "the major reason why we are in Bauchi is to educate them and bring stakeholders together, deepen their knowledge on how to be able to lead legislative advocacy to policy makers to develop strategies to meet with them.
Earlier in his remarks, a resource person at the training, Dr Abiola Akiyode Afolabi said that the objectives of training was to increase public awareness on SSD by community, schools administrators, media and civil society organizations as well as formation and adaptation of the legally binding framework for SSD implementation.
Abiola added that establishment of  effective partnership government, policy makers, media and CSOs on the implementation of state costed plan for safe schools in Lagos, Bauchi state, Nigeria.