How Kaduna spent billions on water in rural areas, but no potable water to drink
Mrs. Titi Michael, Women Leader in Kosoh village in Kagarko Local Government Area of Kaduna State
By Ahmed Ali
The rainy season which starts in April every year is a symbol of hope for Ungwan Mangoro, Kosoh, Madamai communities in Jema'a, Kagarko and Kaura local government areas in Kaduna state, Nigeria. The community hardly gets access to clean water except during raining season.
Despite spending billions of naira by the Kaduna state government to provide drinkable water in rural areas through the Rural Water Supply and Sanitation Agency (RUWASSA), Kaduna State government could not provide clean water to several communities in the state.
The reporter first visited Kosoh village, a 45 kilometers journey from Kagarko town, headquarters of Kagarko local government area.
Godiya Mathew, a seven-month pregnant woman and a mother of three, narrates with sadness and frustration effort of the community residents to access clean water for everyday use.
Her daily routine consists of getting up early in the morning to do 2km trek to the stream, prepare food for the family and gets the children ready for school before going about to make a living.
"It has not been easy for small children, aged women, pregnant women and nursing mothers to be going through forest looking for water.
"We don't have a single borehole in our community. We have suffered enough, and we want the government to do something for us. Please, let the government know that we have suffered enough. We only see politicians during campaigns, let them come to our aid and construct a borehole for us," she said.
Caleb Sarki, another resident of the local community, said the community spent more than 40 years without access to portable drinking water.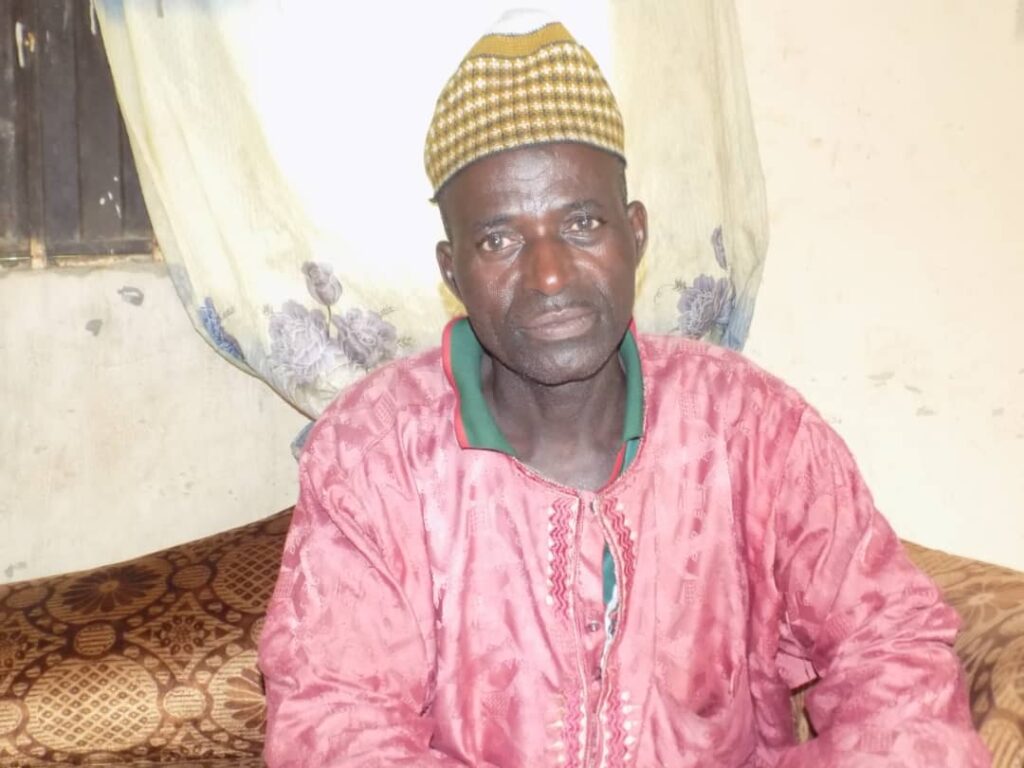 "I was born to see our parents rely on stream water for drinking."
The lack of safe water for use is one of the causes for disease and death in many rural communities in Nigeria. The situation in Ungwan Mangwaro Community, in Jema'a Local Government Area of Kaduna State is not different.
When the reporter visited, there is no pipe-born water supply. Like Kosoh community, the people drink in the same stream as their animals, leaving the water source polluted.
The stream has been the only source of water supply to the rural community of Ungwan Mangwaro for several decades.
Sustainable and equitable access to safe drinking water remains a challenge in Nigeria, with over 86 per cent of Nigerians lacking access to safe water, according to a 2020 UNICEF report.
In 2020, the Nigerian Government and UNICEF released a WASH NORM study which showed that while there has been some progress, more work needs to be done in the country to ensure that all Nigerians have access to adequate and quality water and hygiene services.
Although about 70 per cent of Nigerians are reported to have access to basic water supply, more than half of these water sources are contaminated. Among the 73 per cent of the country's population that have access to water source, only nine liters of water on average is available to a Nigerian daily, according to UNICEF.
At the current rate, the country will miss the SDG targets on people's access to water, unless there is a strong commitment and action taken by all stakeholders. While the impact of water scarcity can be felt by all, no one suffers more than the most vulnerable children and women, especially in the rural communities.
Despite spending billions of naira allocated in water provision to rural areas, many residents are just hearing the news in the radio stations.
Budget releases for water supply
In Kaduna state's 2022 budget, the state government released N4.7 billion for the provision of Water, Sanitation, and Hygiene (WASH) services out of the budget size of N278.6 billion signed by Governor Nasir Ahmad El-Rufa'i on December 22, 2021.
The budget document showed that a total of N4.7 billion was allocated to the state's Rural Water Supply and Sanitation Agency, representing 1.7 per cent of the total budget. Also, the budget showed that N1.5 billion was earmarked for the partnership for Expanded Water Supply, Hygiene, and Sanitation project.
The budget further captured N406.1 million allocated for the implementation of the state Roadmap for Eliminating Open Defecation in 20 local government areas.
Another N882.7 million was allocated for the implementation of Sustainable Urban-Rural Water, Sanitation, and Hygiene across the state.
A total of N214.5 million was earmarked for the procurement of three state-of-the-art drilling rigs and accessories, and N16.8 million for an emergency response to the disaster in Water, Sanitation, and Hygiene (WASH).
The state also expended N72.9 million for the Village Level Operation and Maintenance concept in 476 communities for the sustainability of WASH facilities yet, many rural communities are without water supply to date.
The 2021 budget document showed that N1.4 billion was earmarked for Partnership for Expanded Water Supply, Hygiene, and Sanitation (PEWASH) project. Out of this money, N924.7 million was allocated for the construction and installation of 675 hand pumps boreholes.
Also, procurement of two drilling rigs and other equipment were priced at N622.8 million and N301.9 million respectively.
The government allocated N51.7 million for Village Level Operation and Maintenance concept in 525 communities for the sustainability of PEWASH facilities and N1.2 million for conducts of quarterly campaign to promote effective hand washing.
Apart from the government's allocation, many international organizations have made intervention to improve water accessibility in rural and urban areas in the state.
One of such intervention is Sustainable Urban and Rural Water Supply, Sanitation and Hygiene (SURWASH) services in the state.
The World Bank also approved $700 million programme for SURWASH in seven states, including Kaduna, since 2017.
Right to clean water is for all
In 2010, the United Nations General Assembly in a resolution explicitly recognized the human rights to water and sanitation. Everyone has the rights to sufficient, continuous, safe, acceptable, physically accessible and affordable water for personal and domestic use. This has been affirmed by the Sustainable Development Goal (SDG) 6.1 which calls for full coverage of safely managed drinking water by 2030.
Accessing potable water poses a herculean task in many rural communities across Nigeria, hence communities where there are no boreholes and wells resort to streams and other unhygienic sources of water to meet their needs. The situation is more pronounced in slums and impoverished rural areas.
World Bank reported in 2021 that 60 million Nigerians without access to basic drinking water and 80 million people without improved sanitation facilities".
Only a handful communities in some of the rural settlements visited by this reporter in three local government areas of Kaduna state; Kagarko, Kachia, Kaura and Jema'a are often served via a network of boreholes and mono-pump water schemes constructed either by some house of rep members, individuals or NGOs. Majority rely on streams often contaminated by animal and human wastes.
Water scarcity causes disease and death
Researchers have found that water scarcity is associated with diseases. (http://www.worldwidelife.org) multiple adverse health outcomes, including diseases associated with water contaminated with faecal and other hazardous substances).
Dr Abubakar Sadik Idris, from Department of Public Health, Kaduna State Ministry of Health listed Diarrhea, Typhoid, Hepatitis A, Cholera, Scabies and Schistosomiasis and others as water related diseases.
He said water related diseases, caused by unavailability of safe drinking water and the absence of proper sanitation facilities, are among the leading causes of death in the developing world.
"Cholera is an acute diarrheal infection caused by ingestion of food or water that has been contaminated with the bacterium Vibrio Cholerae. It continues to be a global threat to public health and shows inequity and lack of social development especially access to clean water."
According to the World Health Organization (WHO), an estimated 1.3 to 4.0 million cases of Cholera, and 21,000 to 143,000 deaths occurs worldwide as a result of Cholera.
"Cholera is a highly virulent infection that can cause severe acute watery diarrhoea which can lead to death within hours if left untreated," Dr. Idris said.
He added that the transmission of Cholera is closely associated with inadequate access to clean water and sanitation facilities.
Second to Cholera is Diarrheal disease, which, according to Dr. Sadik, is usually spread through the consumption of contaminated food or water or from person to person due to poor hygiene.
"And it can be prevented through safe drinking water, improved sanitation and personal hygiene especially hand washing with soap and water," he added.
Typhoid fever is also transmitted through contaminated food or water with a life-threatening infection caused by the bacterium Salmonella Typhi.
"Once Salmonella Typhi bacteria are ingested, they multiply and spread into the bloodstream. Severe cases may lead to serious complications or even death."
WHO estimated that 7,134 persons died from Hepatitis A spread in 2016 worldwide.
Dr. Sadik said Hepatitis A infection is higher in countries with inadequate availability of potable water supply, poor sanitary conditions and hygiene practices.
Another water related disease, Guinea worm disease, which is caused by the parasite Dracunculus medinensis, affects people in rural, deprived, and isolated communities who do not have safe water to drink and depend mainly on open stagnant surface water sources such as ponds for drinking water.
"It is a disease on the verge of elimination where the number of human cases annually has fallen from 3.5 million in the mid-1980s to 15 in 2021.The parasite is transmitted mostly when people drink stagnant water contaminated with parasite-infected water fleas," he said.
Symptoms do not usually appear until about one year after they become infected. A few days to hours before the worm come out of the skin, the person may develop fever, swelling, and pain in the affected area.
The United Nations Children Fund (UNICEF) also stated that almost two thirds (4 billion) of the worlds population experience severe water scarcity for at least one month each year and that half of the worlds population could be living in areas facing water scarcity by as early as 2025.
It added that some 700 million people could be displaced by intense water scarcity by 2030 and by 2040, roughly 1 in 4 children worldwide will be living in areas of extremely high scarcity of clean potable water.
"But with all these dangers and warning, our government and our elected politicians have neglected us for decades without any effort to ameliorate our sufferings," said Bitrus Sarki, village head of Kosoh in Kagarko local government area of Kaduna state.
According to Sarki, their people, especially children suffer and die from water-borne diseases. "We don't have a standard health facility to take care of our children during emergency in this village. There are many people living in this community but with no single borehole, hence we resorted to stream and ponds."
He said the only mono-borehole that was constructed by an individual is not functional for quite a long time. "Imagine a community of 3000 people with no single borehole".
"We have many cases here. We built a clinic at our level without government or any politician's intervention and is yet to be renovated. We also have only two classes with two teachers for the whole community at primary level. The only road that links our village to Kubacha via Kukui is bad. We feel totally abandoned, but still, the politicians come to our community to campaign during election season soliciting for our votes," he said.
"We only reported our cases to the local government council who always promised to look into our situation," he added.
On the economic factor, those who can afford to buy dispensed water spend enough for daily domestic use. Caleb Bitrus, said he spends N2,500 every four days to buy sachets of pure water.
"This is for me as I am single. But we have some residents that are spending N3000 to N4000 to get water for large domestic use. Those who can afford it are few. So, if government can do something, the money we spend to get water supply everyday will be used for something else," he said
In Kaduna State, the Kaduna State Water Cooperation (KADSWAG) is responsible for providing and supplying potable water in urban centre, while Kaduna-RUWASSA is responsible for providing water in rural areas.
The reporter contacted Kaduna-RUWASSA for comment on the water challenge faced by the people, but the request was ignored. The Director General of KADRUWASSA, Mubarak Shehu Ladan did not respond to the WhatsApp message sent to him requesting comment. He did not answer call either.
This report was facilitated by the Wole Soyinka Centre for Investigative Journalism (WSCIJ) under its Collaborative Media Engagement for Development, Inclusion and Accountability (CMEDIA) project.