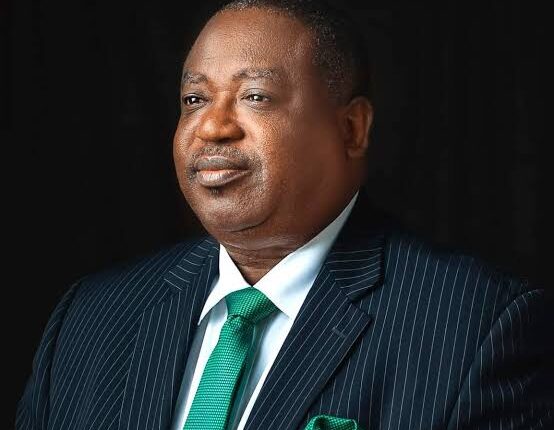 Governor Caleb Mutfwang of Plateau State
By Chris Gyang
In a piece titled, 'Plateau: In Search of Courageous Leadership', I had written, "In times of crises, citizens look up to their leader for protection, respite and direction. A leader who takes charge from the front, securing the values, identity and posterity of his/her people. And the people trust and support him with the assurance that he would neither lead them astray nor abandon or betray them. 
"From antiquity to the present day, these are some of the most fundamental grounds on which the legitimacy of leaders and their relationship with their followers are founded." (See DAILY POST, August 28,2021.)
I added that the leadership of the state at the time had not lived up to that billing. As a result, not only had the people lost hope in it, they had literally become sitting targets for extraneous forces bent on dislodging them from their ancestral lands.
I was writing in the wake of the August 25, 2021, brutal attack on Yelwan Zangam in which not less than 36 innocent people were murdered in their sleep, most of them women and children.
Sadly, it appears the state is not yet free from such horrors. The attacks appear to have been ramped up, perpetrated by the same elements that are bent on conquering and making parts of the state their colonies in this 21st Century!
In the last three months or so, Mangu, Barkin Ladi and Riyom local government areas have come under well-coordinated, massive attacks that have left hundreds of people dead, homes razed to the ground and lush farmlands viciously mowed down or maliciously grazed upon by cows belonging to Fulani herdsmen.
Many who were forced from their homes are now living in official and unofficial Internally Displaced People's camps or with relatives and loved ones all over the state.
However, there appears to be a refreshing paradigm shift in the comprehension of these attacks and the approach towards tackling them. Unlike the tradition in the last eight years, the current leadership is neither prevaricating nor whitewashing the crisis for the sake of political correctness or to save its skin.
To be sure, in the less than three months that Governor Caleb Mutfwang has been in the saddle, he has earned the positive reputation of hitting the nail on the head as far as these horrendous acts of violence are concerned. He had set the tone during his May 29, 2023, inauguration speech.
He punctured and demystified a previously held, state- sponsored, subsidised and widely circulated misconception about the attacks on the Plateau. That patent and self-serving sophistry was that it was a conflict between two actively contending groups.
Governor Mutfwang had publicly declared, to the acclaim of patriotic Plateau people: "We must break this vicious circle of hate and attacks and refuse to allow people brand us negatively…. All we ask for is that those who live within the borders of Plateau must agree to live with us in peace and with utmost respect for our values and traditions….
"We know that there are persons who do not seek the welfare of people…. They stood by unconcerned when our people were murdered in cold blood. They even callously labeled such genocide as 'farmers/herders clash' to the chagrin of the whole world."
That was the strongest rebuke of those killers and their shadowy sponsors yet to come from government in recent years. But, most significantly, it was the first time Government House, Rayfield, would debunk the widely peddled misconception that what has been happening here is a conflict between farmers and Fulani herdsmen.
It was also the first time the killings had been rightly described as 'genocide' by constituted authorities in the past eight years. Taken together, the implication is that a genocide is being perpetrated against Plateau citizens by people whose identities are quite verifiable.
No more shall the intelligence of citizens and victims be assailed by the false narrative that the gruesome killings are being carried out by faceless 'unknown gunmen', 'miscreants', 'bandits' and 'criminals'.
And close to three months down the line (coupled with the benefit of more briefings and insights from the various security chiefs conversant with the situation on the ground), the governor has doubled down. Which is a clear indication that he has been able to further confirm his earlier position of May 29, 2023.
During a meeting with Plateau elders on Monday, August 21, 2023, Governor Muftwang reiterated that stand thus: "What we did upon coming on board… was to put out the true narrative for the world to know that there was no Plateau community fighting another community. It was an insurgency and a reign of terrorism…. I stand here as governor of the state to tell you … that what has confronted us is a terrorism that has come from outside."
Driving this 'true narrative' is the fact that, first, at last the state government is on the same page with the victims. Second, there are extraneous, powerful forces outside the state funding and inspiring these terrorists whose agenda is anchored on territorial expansion.
And, above all, tackling the ailment can start in earnest now that it has been clearly and unambiguously diagnosed. But it must be said that arriving here has taken uncommon courage and determination.
Mr. Mutfwang has not come with a magic wand that will make this terrorism disappear in the twinkling of an eye. No. In fact, the attacks will escalate. These merchants of evil will put on a very strong resistance now that the man in the saddle has exposed their true nature and is determined to face them head-on.
It's a grim, precarious and dangerous task that requires grit, perseverance and sheer political will to accomplish.
Therefore, Plateau people must brace up for more vicious onslaughts. The situation will escalate before it starts to gradually simmer down. It is the ability of his leadership to sacrificially and valiantly take the lead in gingering its people and inspiring them with hope to withstand and ultimately prevail that will mark the acme of the governor's courage.
Victory will certainly come at a very huge cost. On their part, citizens must be bold, patient, resilient and give the governor and his administration all the support he needs to stand against the terrorists trying to overturn the state's social structures.
Security analysts say that the governor has further bolstered his security agenda by appointing an experienced and renowned expert on Security and Homeland Safety to advise him in that area, working assiduously to reinvigorate the state-owned Operation Rainbow security outfit and making the Plateau Peace Agency more proactive in its modus operandi. 
Citizens are anxiously waiting to see how these novel steps will bring respite and give them peace and tranquility. A peace that will take them back to their ancestral homes and give them the economic, social and political stability for which they once prided themselves as free Plateau citizens.
A peace that will give them equity and justice in a Nigeria where no one is discriminated against or abandoned to the brutal whims of other state and non-state players on the bases of their tribe and religion.
We shall close with this excerpt from that article of August 28, 2021: "Courage, sacrifice and integrity are the universal hallmarks of great leadership. It is these outstanding qualities that make leaders and their people survive periods of collective adversity and come out even stronger."
Gyang is Chairman of Journalists Coalition for Citizens' Rights Initiative – JCCRI. Email: info@jccri-online.org