Many people gathered in the early hours of the morning to see the Pope
Pope Francis has celebrated one of his biggest Masses, with around a million attendees in Democratic Republic of Congo's capital, estimates say.
Huge crowds started to gather in Kinshasa well before dawn, including scores of schoolgirls dressed in white who danced along the Pope's route.
A public holiday was declared, so as many people as possible could attend.
Around half of DR Congo's population is Catholic – the largest Catholic community in Africa.
It is more than 37 years since a pope had visited the mineral-rich but conflict-ridden country.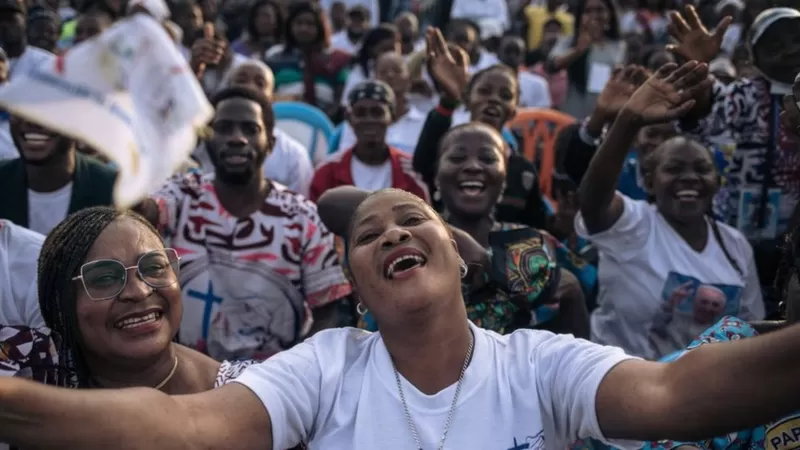 Africa is considered the future of Catholicism, but some say it should have more representation
A 700-person choir, that had been practising together long before the pontiff was originally due to visit last July, had been assembled specifically for the event. The Pope's original visit had to be postponed because of poor health.
There had been some murmurings that the Pope has not been as critical of DR Congo's political leadership as some had hoped, but the Mass at N'dole airport was a joyful event, and the pontiff did have a strong message of peace for those engaging in conflict in the country.
On the second of his six-day visit to Africa, he said warring sides should forgive one another and grant their opponents a "great amnesty of the heart".
He went on to espouse the benefits of cleansing one's heart of "anger and remorse, of every trace of resentment and hostility".
Wednesday's Mass was tipped to be one of Pope Francis' largest-ever Masses, second only to one held in the Philippines in 2015, according to Christopher Lamb, the Rome correspondent of the Catholic magazine The Tablet.
In an interview with the BBC's Newsday radio programme, he said Catholicism was growing in Africa: "This is the future of the church and the growth of the Catholic Church in Africa really is so important to the future of Catholicism."
On Tuesday, the Pope met President Félix Tshisekedi and delivered a speech condemning historical exploitation of Africa's resources, which he described as "economic colonialism".
He also addressed DR Congo's plight, as minerals have played a key role in more than three decades of armed conflict there: "Hands off the Democratic Republic of the Congo! Hands off Africa! Stop choking Africa, it is not a mine to be stripped or a terrain to be plundered."
However, a planned visit to the eastern city of Goma has been cancelled for security reasons. The eastern part of DR Congo is facing escalating violence as security services fight against armed militia groups.
According to the United Nations, some six million people have been forced to flee their homes in DR Congo.
That is one of the largest populations of displaced people in the world, alongside places like Afghanistan, Yemen, Syria and Ukraine.
Most of the displaced are in the eastern provinces of South Kivu, North Kivu and Ituri. (BBC)