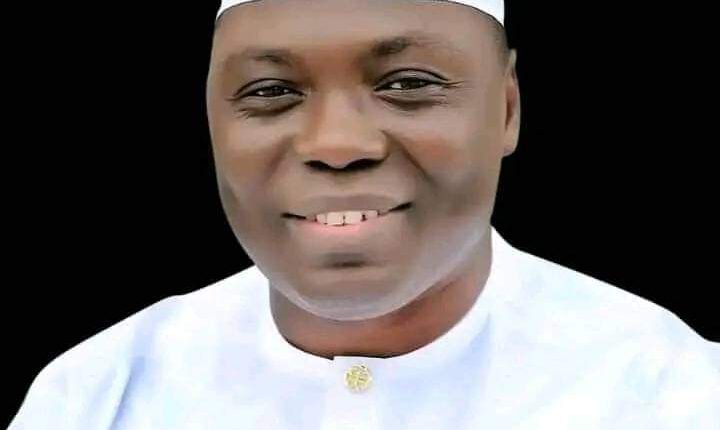 Governor Agbu Kefas of Taraba State
By Emmanuel Bello
The soldier turned politician and now governor of Taraba state, Dr Agbu Kefas, has left the whole country talking about the rock star like presence he brings to governance.
The retired Lieutenant Colonel has become the toast of both conventional and new media with his attention grabbing headlines.
When he's not visiting offices unannounced, he's sitting with school kids in their classrooms, identifying with the vulnerable.
He's become a maverick, a celebrity politician doing away with long held procedures.
His love for young people has earned him the sobriquet "Star Boy"! It is both a testimony to his youthful zest and the passion he brings to governance.
Rising early each day, Dr Kefas puts in the hours at a job he was prepared for all his life: the rigour of growing in a polygamous home; the stern regimen of the military and the ascetic discipline of the clergy. Growing up with a missionary father and rising to becoming a pastor of his own congregation, Dr Kefas was imbibing the leadership qualities he would need in latter life.
And Taraba Government House is the final laboratory of all he has been prepared for. This is where he now experiments with the quick decision making reflexes he has imbibed at war zones or even in the Niger Delta where he studied the game of life and death. It is in Taraba state he is finally putting his love for improving lives, his dedication to excellence and his zest for young people to full practice.
It is not his first scene. For Dr Kefas has been tried and tasted in many assignments: CSO to military administrator, Commander of troops, war time hero, Chairman, Governing Board, NIMASA, and shepherd of his own congregation.
As Taraba state enters the week to mark his first 100 days in office, we are confronted by what he had to say about this symbolic deadline. He said, "I'm not about politicizing the traditional 100 days in office rituals. I have a 4 -year mandate. Rather than rush and try to impress after a hundred days, I'll rather have the people assess us on what we have done so far and engage us on areas we need to strengthen."
He is right. But as we honor the time honed ritual, we can not help but compile what is now clearly just the beginning as far as achievements are concerned. Just take a look at these. In the last few weeks, the workaholic governor, among other things, have:
Enrolled over 1000 retired local government staff into the pension scheme.
Declared a state of emergency in primary and secondary schools.
Ordered free tuition fee for primary and secondary schools.
Ordered for the immediate reduction in tuition fee for the school of Nursing and midwifery Jalingo and the Taraba State university by 50%.
Ordered for the procurement of 950 Tractors in collaboration with the Czech republic to enhance Agriculture.
Ordered for the employment of 10000 youths into the state sanitation scheme.
Visited crisis ravaged areas and restored peace swiftly ( Wukari and Karim).
Set up a panel to look into PDP internal crisis.
Fulfilled his youth inclusion in governance by appointing not fewer than 15 youths as commissioners.
To cushion the effect of subsidy ordered the implementation of minimum wage as from October 2023.
Declared his support to assist farmers in the transportation of their goods.
Set aside 5billion to offset gratuity.
Revamping of the Taraba Marshal to enhance security.
Pledged to renovate the Jolly Nyame Stadium.
To offset backlog of arrears owed by past governors.
Ongoing maintenance work at the Taraba State specialist Hospital.
Met with the Chinese embassy to collaborate in terms of mining and development.
Bello is Special Adviser, Media and Digital Communications to Taraba State Governor