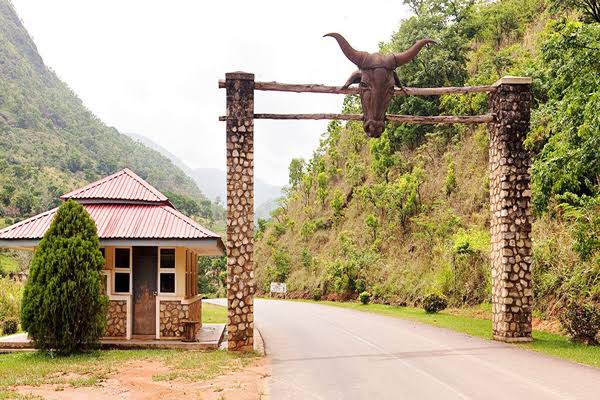 President Tinubu urges Cross River Governor, Otu to revamp Obudu Mountain Resort
Entrance into Obudu resort in Cross River State
By Akpan David, Calabar 
President Bola Tinubu has called on Governor Bassey Otu of Cross River State to revamp the famous Obudu Mountain Resort.
It is understood that the president has further sent a team to assess the sprawling, chilly and mountainous resort which situates in the northern part of the state.
Governor Otu disclosed this during a media briefing to mark his 100 days in office.
He said the president asked him about the state of the resort which was affected by union activities and poor patronage for some years due to reported government neglect.
According to records, the ranch was developed in early 1950s by one Mr. McCaughley, a Scot, who first explored the mountain ranges in 1949. But it was former Governor Donald Duke who massively rebuilt and modernised it to boost international tourism in early 2000 where Kenyans, Ethiopians and Eritreans would always cart away top mountain race prizes.
Governor Otu said, "The president has asked me to look into and revamp the resort.  He intends to make it the 'Camp David' of Nigeria where he will come to recline and enjoy nature.
"The president is interested in the resort. He has even sent a team to look at it," Governor Otu said.
The governor disclosed that he has delved into the labour issues which basically had to do with payments of backlog of salaries.
"I am happy to say that government has intervened by paying more than half of the backlogs which ran into several millions of naira.
"I have also absorbed a good number of the workers into the state civil service", he stressed.
He confirmed that the resort is on its way to full services, especially as the Odudu Cargo airport will be completed in about six months.
The governor said the airport will contribute much to drive traffic to the resort.
"Also, the nearby Bebi Air strip which was underutilized is to be activated to further complement the Resort.
"We have established the Irish Aviation Training School where potential pilots, air crew members and other aviation technicians are to be trained," the governor explained.
Governor Otu further disclosed that to ease transportation to Obudu town, and the resort in particular, his government discussing with Nigerian Railway Corporation to establish railway from Calabar to Obudu.
"Within the life span of my administration,  I assure that we will establish a railway from Calabar to Obudu town to compliment the Obudu Mountain Resort. This will ease the long hours of travel stress from south to north," he said.