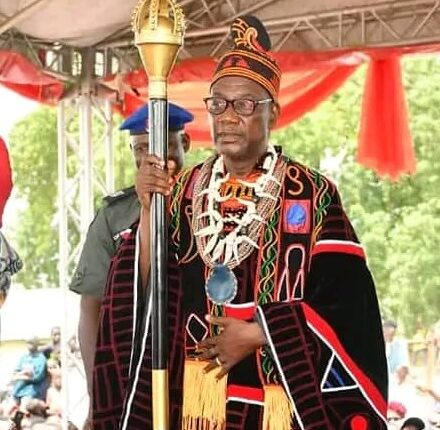 Taraba Governor presents 1st Class Staff of Office to Gara Donga
The Gara Donga, Ambassador Sanvala Varzoa Shimbura
By Yusuf Salisu Sansani, Jalingo
The Governor of Taraba State, Darius Ishaku has presented first Class Staff of Office to Gara Donga, Sanvala Varzoa Shimbura.
The ceremony took place at the Donzomba Primary School, Donga Local Government Area.
Speaking, Governor Ishaku tasked the new Gara Donga, Sanvala Varzoa Shimbura to continue with the enduring legacies of the late Gara Donga, Stephen Bayonga who worked for the overall good of his people.
He stated that his administration will always rely on counsel from traditional rulers hence the need for them to stop seizing lands of their subjects and work with Government to surmount security problems facing the nation.
The Governor, employed traditional rulers to uphold peace and unity by carrying everyone in their domain irrespective of tribe or religion.
Governor Ishaku told the Gara that he is coming at a time when there is need for him to bring to use his education, diplomacy and international relations to improve the lot of the people of Donga Chiefdom.
Earlier, Permanent Secretary Bureau for Local Government and Chieftaincy Affairs, Bello Yero said the bureau is proud to play an integral part of the ceremony.
He described the new Gara Donga as an educated diplomat and administrator that has worked for peace over the years.
Yero applauded the many sacrifices of the late Gara Donga in the area of peace and development and prayed God for his soul to continue to rest in peace.
The installation featured administration of Oath of Office by the Chief Judge of the State, Philibus Andetur, presentation of Royal Gifts by the Gangwari of Ganye, Adamu Umar Sanda on behalf of the Chamba Nation and traditional dances.
General Theophilus Yakubu Danjuma who is the Gangboro of Donga, royal and religious leaders, politicians, security heads and others attended the ceremony.
The new Gara Donga Sanvala Varzoa Shimbura is the tenth with the title Gargbanyi II.